The Aged Care industry is currently experiencing significant economic growth as the number of Australians aged 65 years and over is forecasted to more than double over the next 40 years, increasing from around 3.6 million in 2014-15 to 8.9 million in 2054-55 (Deloitte Access Economics, 2016).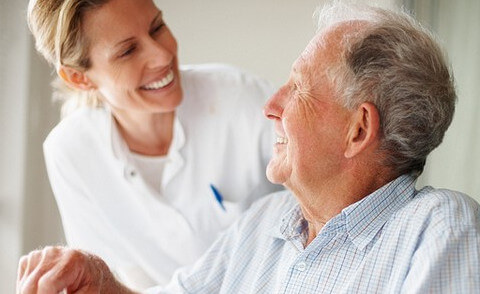 It has been estimated that around 76,000 new residential aged care places will be required by 2023 (Aged Care Financing Authority (ACFA)), which will result in a significant increase in the employment of staff to deliver these services and care for residents.
The Aged Care sector comprises of Home and Community Care (HACC), Residential Care, Home Care and Adjacent Industries including Hospital and Medical Services and Residential Villages
As the demands for higher quality patient care is becoming more prevalent due to the consistently aging demographic, it is more important than ever to ensure Aged Care facilities are equipped with the most appropriate resources that are both cost effective and easy to use.
Suitable Panasonic Solutions
The Aged Care Sector is a competitive market that requires tailored solutions to attract customers to ensure their services are the best fit for their individual lifestyle needs.
Panasonic has a range of enterprise communication products that can assist the Aged Care industry to improve their quality of service and the level of care they provide:
Small Sites (Typically Less than 100 Users)

Panasonic KX-NS700

Hybrid Premise based deployment – supporting TDM technology (analogue, digital, IP and SIP)
Suitable for existing sites and cabling or new full IP LAN based deployments
Connects up to 1000 users
Reliable and Easy to use
Can integrate with numerous applications that provide monitoring and reporting features
Medium to Large Sites (Typically 100-1000 Users)

Panasonic KX-NS1000

Hybrid Premise based deployment – supporting TDM technology (analogue, digital, IP and SIP)
Hosted deployment
Can utilize existing cabling where possible for Desk phone and DECT base stations to reduce Investment costs
Connects up to 1000 users – Including large scale analogue users
Reliable and Easy to use
Can integrate with numerous applications that provide monitoring and reporting features
Panasonic Cordless DECT Handsets

Allows staff to move around while speaking on the phone in order to provide efficient customer service
Reduce cost of ownership (low replacement costs)
Nurse Call Integration providing DECT and desk phone messaging to improve patient and resident care
DECT and Desk Phone messaging
Group paging to all handsets – alarm response, message alert – to contact people away from their desk
Provides a full desk phone user experience – soft keys, flexible buttons, built in navigation menu
Best in Class products – Panasonic has been the Global No1 in DECT Cordless for the Past 13 Years
Provides the staff with the Freedom of onsite mobility
Choice of Handset styles – Entry level, Executive and Ruggedised KX-TCA DECT handsets
DECT Roaming Features- Works across multiple sites – register handsets to multiple systems
Legacy Cell station options for existing legacy cabling sites
New IP LAN based Cell stations with LAN Synchronisation features to provide greater coverage and call hand over management.
Provides Cost savings with typically less IP Cell stations deployed when compared to legacy DECT Installations
Advance Care Nurse Call System

The Advance Nurse Call System can integrate directly without the need of a messaging server directly with Panasonic KX-NS700 and KX-NS1000 PBX systems to allow staff greater efficiencies when attending to patient needs.

A nursing assistance request to the Nurse Call System via the various care points are messaged through to the Panasonic DECT Cordless and Wired Desk Phone handsets providing information about the location and type of request, and gives the staff options to respond, reject or place calls back to pre-assigned phones closest to the care point instantly.

The monitoring and reporting features allow Aged Care Businesses to demonstrate the levels of care offered as well as response times and actions against targeted milestones within the business for patients and residents.

The level of care provided is often very closely related to funding support for the Business and their ability to attract new customers.