Description
The Panasonic KX-NS700 Smart Hybrid PBX system has been designed to allow small and medium businesses to grow and adapt their communication needs as their business expands. The KX-NS700 has been designed specifically for small or medium businesses looking to take advantage Panasonic's reputation for quality technology without needing a "huge" budget.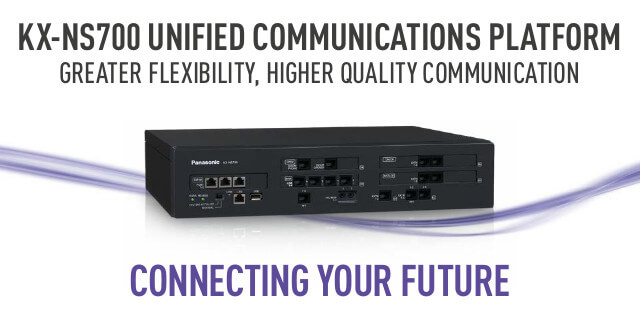 Key Features
Smart Hybrid System
The system has sufficient capacity for legacy port and IP ports. Old handset such as KX-T7600, KX-T7630 and KX-T7636 handsets that were previously supported on old Panasonic KX-TDA30 are compatible on the KX-NS700.
Advanced, Rich features
The KX-NS700 is a unified communications system which has rich IP features such as mobile twinning, integrated voicemail, voicemail-to-email, instant messaging (chat) and presence information.
Scalability
The KX-NS700 is highly scalable. It has a stackable design and up to 130 digital extensions can be supported with the installation of an additional three KX-NS720 shelves. A single KX-NS700 shelf can support up to 34 digital extensions on a single shelf or up to 128 IP extensions can be supported on a single shelf. It can even connect to a Panasonic KX-NS1000 system to create a small, medium or enterprise solution.
Call Centre Solution
The KX-NS700 can support the needs of supervisors in call centres, such as queue announcements, live status monitoring, activity reports and automatic conversation recording.
Simplified Installation and Maintenance
Panasonic highly trained and authorised dealer channel can easily programme PBX functions thanks to built-in web server. Programming can even be carried out remotely.