Panasonic is a worldwide leader in the business telephone market for over 30 years with the launch of the world's first hybrid port systems in 1986. Panasonic offers high quality phone communications solutions for a broad range of business applications from Panasonic Smart Hybrid PBX system suitable for small to medium businesses, through to advance IP based Business Communications Server suitable for medium to large businesses.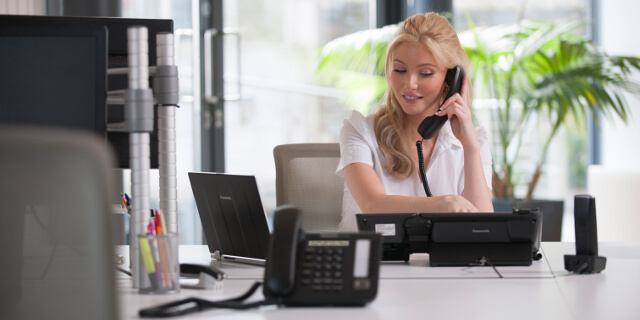 In Australia, Panasonic has built the business to be one of the flagship product areas within Panasonic Business division with a strong national network of over 150 dealers, covering all States and Territories, both in metropolitan and regional areas.
Reasons to Choose Panasonic
Strong Dealer Network

Panasonic maintains an on-going programme of training and accreditation to ensure the highest standard of product experience and technical aptitude is maintained within our dealer network.
Commitment to Innovation

Panasonic has continued to demonstrate its commitment to providing future-ready products, developing new hardware and software as network services and customer needs evolve. This is clearly seen in the Panasonic KX-NS and KX-NSX series of products that are designed to be backwards compatible while maintaining their renowned ease of operation.
Proven Reliability

Panasonic Business Phone systems are also renowned for its reliability. The systems are manufactured to the highest possible standards at a factory that has earned ISO 9001 certification for design, development and manufacture of telecommunications equipment.
Future-Proof

Investment in a telecommunication system requires business communication foresight. Businesses need to be able to effectively communicate today and into the future. When you invest in a Panasonic Business Phone system, you are investing in a reliable and future proof product that is equipped to handle the growing demands of your future communication needs.
Warranty
Panasonic is committed to making a contribution through their business operations to improving the lives of people around the world. Panasonic guarantees a high standard of quality control so that every product is tested for excellence using the international standard ISO 9000 and backed by a 12 Month Standard Product Warranty.