TIM4biz is a cloud-based call reporting and call accounting solution that removes the headaches that are typically associated with legacy call accounting software and telephone expense management.
With TIM4biz Cloud Call Accounting solution, customers no longer have to worry about all the major components of a typical call accounting solution including – application/ database service, web server, reporting, CTI licensing etc. The major IT components are instead installed in a datacentre and are automatically backed up and maintained by TIM4biz.
Over 100 reports are available on TIM4biz at no extra charge. You can schedule the reports to be emailed to you daily, weekly or monthly or run the reports any time. You are also able to access the TIM4biz dashboard on the go when you are on the move, with "TIM4biz Call Accounting" app on your smartphone.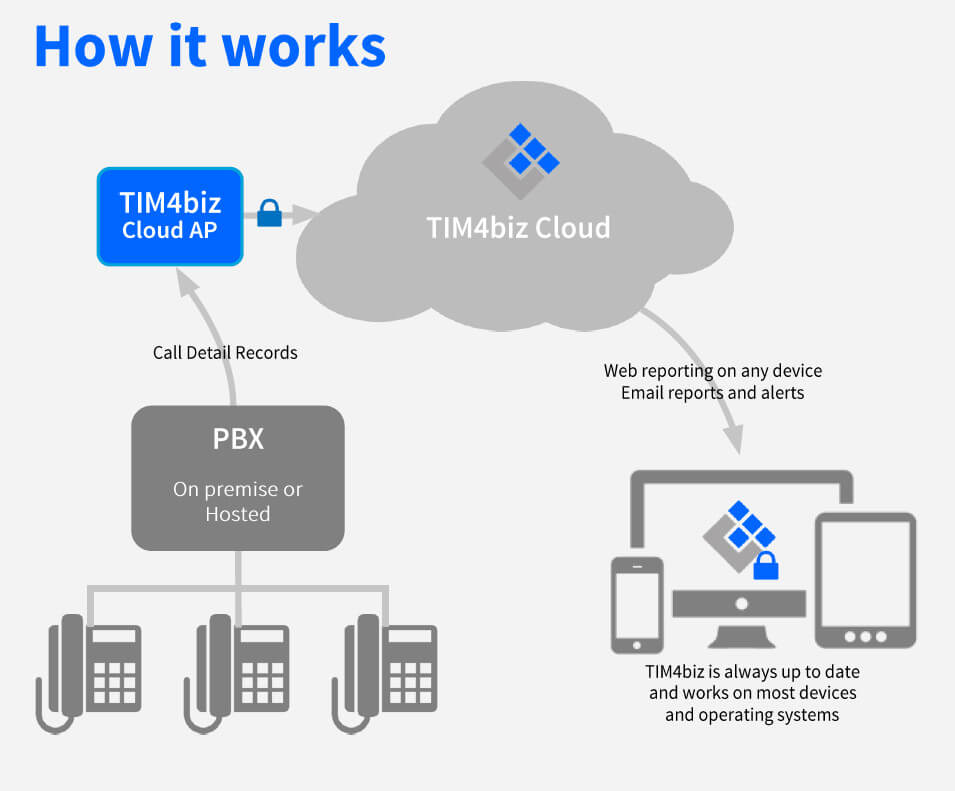 Benefits for Panasonic PBX Users
No server required
Simple to install
Simple to use and support
Low cost accounting solution
Panasonic CTI license is not required as TIM4biz uses SMDR information from Panasonic system.
Ability to generate call records for billing of hotel guest and aged care residences.
Scheduled reports can be set up easily and emailed to customers.
Over 100 reports available
TIM4biz Call Accounting app on your Smartphone for live Dashboard when you are on the go.
Cost-effective pricing especially as server is not required.
Note: A Cloud AP8 device and internet connection are required.
Brochures
Screenshot